• Ganta would also join soon, says Vijaya Sai
Visakhapatnam: Former minister Ganta Srinivasa Rao's close lieutenant Kasi Viswanatha has joined the ruling YSRCP just before the elections to the Vizag Municipal Corporation. Viswanath joined the YSRCP on Wednesday in the presence of party leader and Rajya Sabha member Vijay Sai Reddy. This is considered a definite setback for the opposition TDP.
Vijay Sai Reddy said Ganta Srinivasa Rao has sent some proposals to the chief minister and the party president YS Jagan Mohan Reddy and once they are cleared he would also be joining the party. He said Kasi Viswanath should have joined the YSRCP about a year ago but due to some reasons he stopped short of joining the party.
Kasi Viswanath said he joined the ruling party after getting convinced about the sincerity of the chief minister regarding the welfare of the people of the State. He said he was impressed by the YSRCP rule.
Also Read: Amravati's Failure: Can Naidu explain?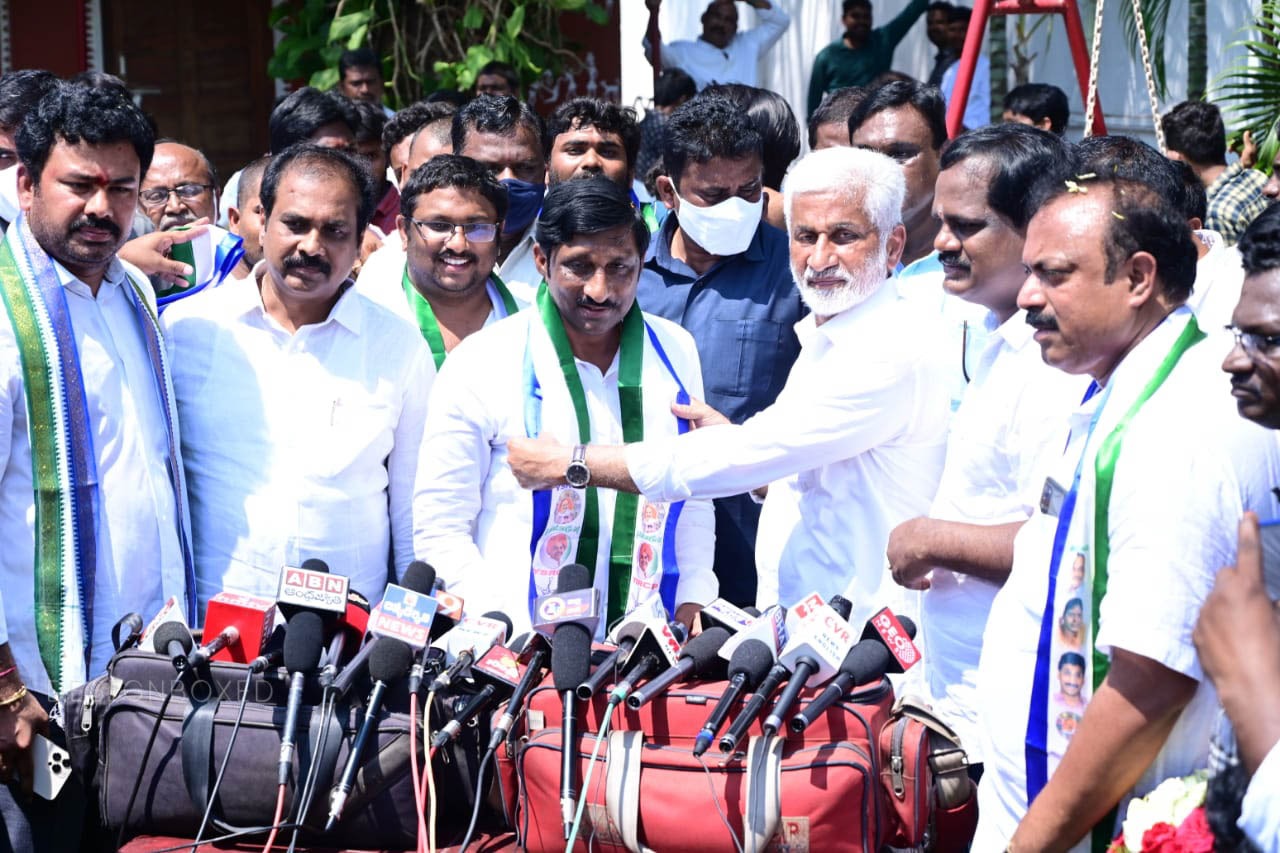 Minister for Tourism Avanti Srinivas has been opposing the entry of Ganta Srinivasa Rao into the party. He was not present on the occasion of Kasi Viswanath joining the party. There have been differences between Ganta Ssrinivasa Rao and Avanti Srinivas who were close friends some time back. Vasupalli Ganesh, who won from Vizag South constituency on the TDP ticket, had declared his support to the ruling party. Since then there were rumors that Ganta also would be jumping on the YSRCP bandwagon. However, Avanti Srinivas did not hide his antipathy towards his former friend and mentor. He openly opposed Ganta's move to join the YSRCP.
Also Read: Ghanta Srinivas resigns in protest against Centre's decision
YSRCP leadership is keen on winning the post of mayor of Visakhapatnam in the forthcoming municipal elections for which it needs Ganta Srinivasa Rao who is popular among some sections in the city. Ganta has been maintaining a distance from the TDP ever since the results were announced. When the news came that the union government has decided to disinvest in Vizag Steel Plant, Ganta sent his resignation letter to the Speaker of the Assembly Tammineni Sitaram with whom the letter is pending. However, when Chandrababu Naidu, TDP president, visisted Vizag recently, Ganta was with his party leader. He accompanied Naidu to the hospital to see Palla Srinivasa Rao whose fast was broken by the police earlier. Ganta did not make any statement so far about his plan to shift to the ruling party.