Mahanadu at Ongloe was huge success
'Samajika Nyayabheri' also had crowds at Narasaraopet
'Quit Jagan, Save AP' was the slogan at Mahanadu
Two massive gatherings were held on Saturday in Andhra Pradesh making it difficult for the few objective news channels to divide the time as top leaders in both the meetings were speaking at the same time. The Mahanadu at Ongole had a huge attendance while the 'Samajika Nyayabheri' organized by the ruling YSRCP at Narasaraopet was also a big success.
TDP chief Nara Chandrababu Naidu, actor-MLA Nandamuri Balakrishna and Nara Lokesh, Naidu's son and the national general secretary of the TDP, were the main speakers at Mahanadu. Seventeen ministers were leading the bus yaatra in the name of 'Samajika Nyayabheri'. Leaders at both the meetings appeared jubilant with the attendance and made aggressive speeches.
Naidu told the enthusiastic crowd that YSRCP chief and Chief Minister Jagan Mohan Reddy will go for early elections and he is destined to lose  badly. He alleged that the CM had borrowed to the tune of Rs. 8 crores in three years and one fourth of that was pocketed by him. Naidu promised that he would make Jagan cough that amount after the elections when he would become chief minister. "Quit Jagan, Save Andhra Pradesh" was the slogan at Mahanadu. "Khabaddaar, we won't leave you," Naidu warned Jagan Mohan Reddy. He accused Jagan of getting his uncle Vivekanad Reddy killed and of calling the stroke by axe as a heart stroke. He blamed YSRCP government for the murder of former driver of MLC Anantababu in East Godavari district. As the driver Subrahmanyam was a dalit, the YSRCP had created violence at Amalapuram by getting the houses of its own minister and MLA torched. He said the TDP was not against Ambedkar and recalled that it was under the stewardship of NTR that the National Government headed by VP Singh gave Bharata Ratna to Baba Saheb Ambedkar.
Naidu said while he used to spend 53 percent of State's income on welfare programmes the present government is spending less than 41 percent but is indulging in a lot of publicity by giving full page advertisements to newspapers. Sakshi, the newspaper owned by Jagan Mohan Reddy, has been the main beneficiary, he alleged. Jagan Mohan Reddy has been indulging in gross corruption in the name of welfare, Naidu criticized. This government is swallowing the temple and the linga in the temple, cine actor Balakrishna said. Lokesh said on the sidelines of the meeting that those who lost elections continuously for three times would not be considered for ticket.
Since this is NTR's jayanti (birthday), in fact, his birth centenrary celebrations started on Saturday,  speakers paid rich tributes to the departed leader. Naidu said it was NTR who initiated welfare programmes with two rupees a kilo rice. Naidu repeated that it was he who brought cell phones and IT in Hyderabad. He said while he created jobs in IT, police department and education, Jagan Mohan Reddy was creating the jobs of volunteers.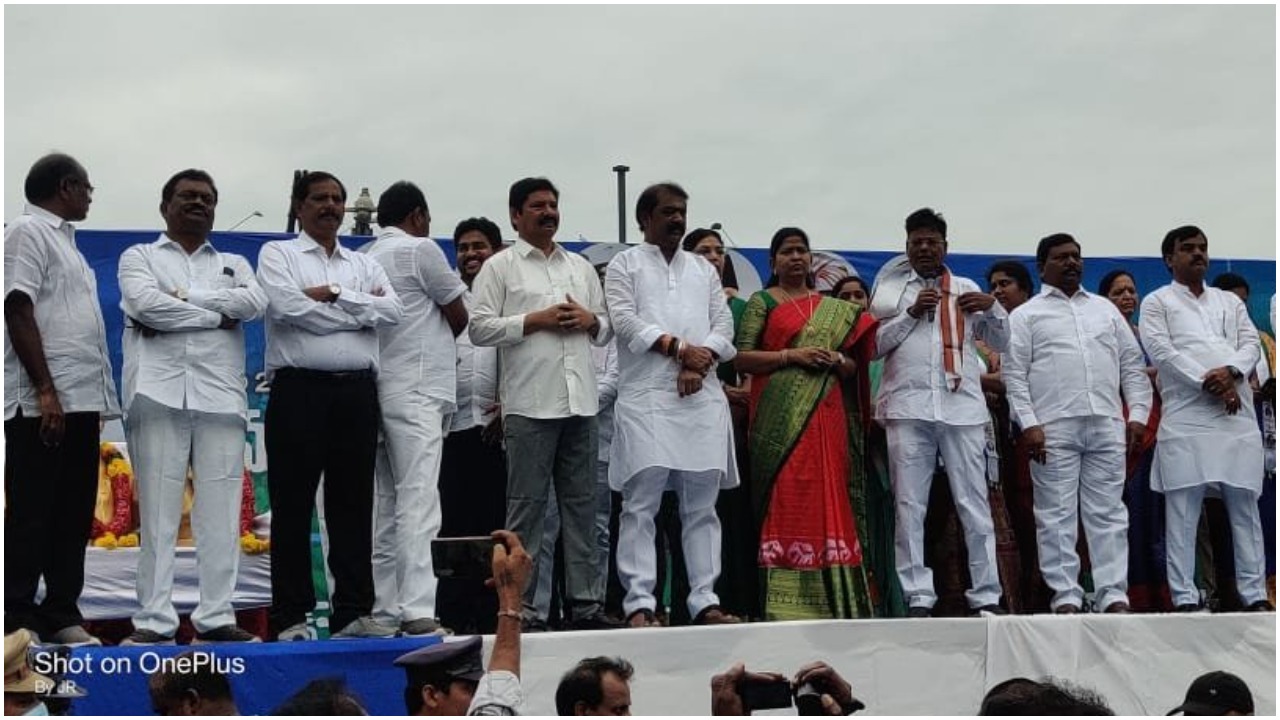 Ambati Rambabu, minister,  said Naidu will never become Chief Minister again even if he held hundred Mahanadus. Jogi Ramesh, another minister, said Naidu will get reduced number seats in 2024. Minister Suresh also criticized Naidu for attacking the chief minister  without rhyme or reason. The speaker reminded that it was Naidu who stabbed NTR in the back and NTR himself called Naidu a 'drohi.' He was responsible for the death of the star politician, they alleged.
Whether Jagan Mohan Reddy would ultimately go for early elections or not, an election atmosphere has been created on Saturday and it will continue in all likelihood.