Netaji Subhash Chandra Bose, Gumnami Baba
Investigating Author Chandrachur Ghose asks
Authors: Prof Sridhar Acharyulu and Prof Paromita Das Gupta
Though there is enough circumstantial evidence to prove that Netaji Subhash Chandra Bose and the unseen holy man Gumnami Baba was the same person, the political groups are not interested in bringing out the truth, claimed an investigative author Chandrachur Ghose in his commemorative lecture on the 125th birth anniversary of Netaji, at the School of Law, Mahindra University. 
Ghose, a founder member of' 'Mission Netaji', a five-member group that probed into the disappearance of Bose, has authored two books on Netaji. Chandrachur, with his fellow researcherfrom 'Mission Netaji,' Anuj Dhar penned a bestselling book, "Conundrum: Subhas Bose's Life after Death"(2019), which was adapted into a film called" Gumnami" in the same year. Through his well-researched monograph," Bose: The Untold Story of an Inconvenient Nationalist", (Penguin: February 2022),Ghose probed further into the details of Netaji'searly political life and the relevance of Netaji's examplary political thought in the present times.
From his in-depth study and heaps of declassified documents, Ghose arrived at the conclusion that Gumnami Baba was none other than the enigmatic national leader Subhas Chandra Bose. He exposed that the DNA and handwriting tests in government laboratories were fudged. His first book gave historical details with documents that formed part of declassified files. Chandrachur and Anuj collected plenty of evidence, like independent opinions from national and international experts, which disprove the official claims of the Indian government about the Taihuku (Taiwan) plane crash theory that killed Bose. Ghose reiterated that the declassified secret documents and accounts of those who visited the mysterious holy man of Faizabad prove that Netaji and Gumnami Baba was the same individual.
Declassification: Demystifying the Mystery of Netaji Bose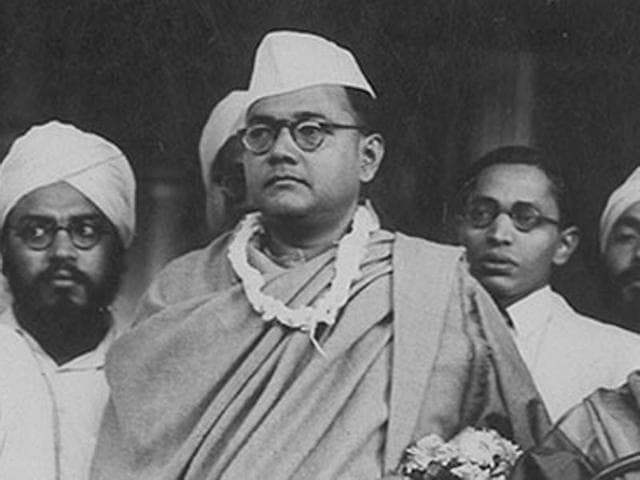 Most government files related to Netaji Subhas Chandra Bose's mysterious disappearance were kept secret until three major rounds of declassification. First, it was the UPA government that declassified several files in 2010 and released over 10,000 pages related to the functioning of the Justice Mukherjee Commission of Inquiry. The second round took place when Bengal Chief Minister Mamata Banerjee declassified 64 files in 2015. Chandrachur Ghose and Anuj Dhar, were part of the pressure group called 'Mission Netaji'  which campaigned for the transparency, that fructified in this first two rounds of declassification. Without stopping there, Ghose, along with Anuj Dhar, relentlessly pursued the declassification of the Netaji files further by filing several RTI requests under the Right to Information Act 2005. Their meticulous scrutiny of those documents revealed that the Central and the Bengal governments were snooping on everyone associated with Bose until the 1970s; the resultant outcry led the Narendra Modi government to release 303 files on 23 January 2016.
According to Ghose, these declassified files clearly establish that contrary to the official version of Netaji perishing in an alleged plane crash on 18 August 1945 at Taihoku (Taiwan), Bose returned to India in the early 1950s and continued to live in anonymity till his death in 1985. To his followers, among whom were former top Bengali revolutionaries and an intelligence officer of the Indian National Army, Bose claimed that he was not interested in political life but that he was involved in global geopolitics to serve India's best interests. He claimed that he had formally taken sanyas.
DNA& Handwriting Mismatch: A Debatable Report
Ghose analyzed that Justice Mukherjee Commission of Inquiry found credible evidence to support the claim that Bose returned to live in India, but hesitated to conclude the same because of a shortage of clinching evidence. The two biggest obstacles in proving the claims were DNA reports and handwriting analysis reports from government laboratories that opined that samples from the unnamed saint, also known as Gumnami Baba, did not match Bose's.
Ghose began by introducing Netaji's political career and his rise to higher ranks of the Indian National Congress. Through his monograph, he revealed Netaji's unconventional style of politics, which belied all existing mainstream trends of Indian national politics. He opposed the incrementalism of the Gandhian Congress, the doctrinaire politics of the Communist Party, and communalism in politics and prioritized national interest over abstract political and moral theory in his demand for complete independence. This made him' inconvenient' to almost all the political groups in the country.
The School of Law (SoL), Mahindra University, organized this lecture on" Mysteries and Untold Stories of Netaji Subhas Chandra Bose", recently to commemorate the 125th birth anniversary of Bose. The history faculty of Mahindra, and the organizer of the event Dr. Paromita Das Gupta, welcomed the guest speaker. Chandrachur's fascinating talk had raised prudent questions that left the audience seeking answers in the quest of sifting facts from carefully orchestrated fiction.
The Dean, School of Law, Prof. M Sridhar Acharyalu, former Central Information Commissioner of India, appreciated Ghose's well-rounded presentation supported by auditory and visual evidence. He also felicitated the speaker with a memento. Law student Voni Venkat proposed a vote of thanks.