Streaming on Disney+Hotstar 4th February 2022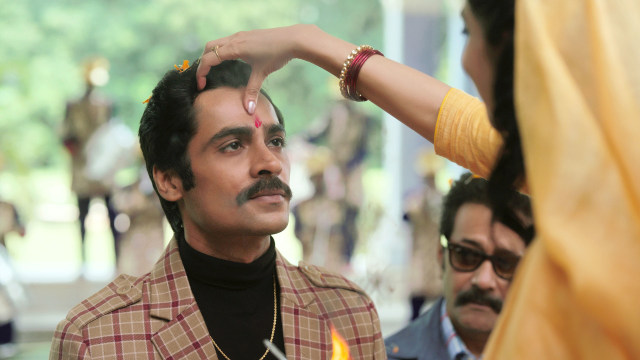 Vikas Swarup's Six suspects was a book which used the format of an investigate thriller to talk about the rampant corruption that runs through in all the systems. The character of Vicky Rai who gets killed in his own party was a just a medium through which Vikas Swarup explored the different facets of our contemporary society. For those who are not aware, the book was about a playboy called Vicky Rai. He is the son of the home minister of Uttar Pradesh. He gets embroiled in a murder case, but he quickly gets acquittal being the home minister's son. To celebrate his acquittal he throws a party in his farm house. In that party he gets killed by a gun shot. The police arrest six guests on the grounds of suspicion.
Also read: Bro Daddy: A watchable family entertainer that never becomes memorable
Among those who are arrested there is a bureaucrat who claims to have become Mahatma Gandhi. Director Tigmanshu Dullia takes the Skelton of this book and gives it his own touch. There are certain characters in the book which aren't here but you don't really miss them as Tigmanshu delivers a mostly satisfying thriller.
The very first episode sets the base for what is to follow. You have a wealthy womanizer Vicky Rai (Jatin Goswami). He has thrown a bash to celebrate his acquittal at his Delhi farmhouse. The party includes family, friends, foes and also quite a few gate-crashers.
Also read: Yeh Kaali Kaali Ankhein: A twisted love story that keeps you hooked
Ashutosh Rana plays the father of Vicky Rai. He is a power mongering home minister. Fireworks begin soon after Vicky Rai's speech. In these fireworks someone has shot a bullet that leads to the death of Vicky Rai.
There are three people who come under the most suspicion for Vicky Rai's death. One is a slum- dwelling thief (Shashank Arora), another is a tribal who is looking for a stolen ancient idol and lastly there is the former chief secretary (Raghubir Yadav). He is suffering from split personality, due to the split personality he sometimes starts behaving like Gandhi.
Also read: Human: A show that is going to haunt you for a long time
There are also other characters that may or may not have had a hand in the murder of Vicky Rai. One of them is Vicky Rai's own father. Thrown into this mix are a top cop and a CBI officer. These characters are played by Richa Chadda and Pratik Gandhi respectively. Revealing anything more wouldn't be appropriate since this is a thriller, also there are many mini stories within that are important to the plot.
The most striking aspect of The Great Indian Murder is the grip that writer director Tigmanshu Dhulia maintains for the most part of the show. There is lot of back and forth which is going on, the sequence of events keep on changing with plenty of twists and turns. It is a lot to handle but Tigmanshu makes good use of the Rashomon approach. The underlining theme of the show is the manipulating of evidence for political mileage.
Also read: Harry Potter 20th Anniversary: A nostalgia ride with plenty of heartwarming moments
Each character shows a different side of our society. My most favorite one is that of Shashank Arora. Yes, he is a slum dwelling thief but at the same time there is an inherent decency to his character. The trajectory of his role has an emotional touch. His love for Vicky Rai's sister and how he goes out of his way to help her leaves you quite emotional.
Another character which needs to be mentioned here is that of Raghubir Yadav. His split personality gives the show some of its best moments. The scenes where he switches over to Gandhi are very amusing, to say the least. There are several jibes that the director takes through his character. 
Also read: Year ender review (Web series): Some of my favorite web series across languages
While most of the characters are well written there are also some which could have done with more bite. An example of this is Paoli Dam who plays an actress. She is someone who has been body shamed and also physically assaulted by Vicky Rai. She even goes to a television channel and blasts Vicky Rai with her words. However, she is soon pushed to the background after the first two episodes.
Also the handling of the many tracks slows the proceedings at certain junctures. You can see that Tigmanshu is trying his best to tie up the many subplots, the strain of that shows up more than once.
In this huge ensemble Shashank Arora and Raghubir Yadav stand out the most.
The Great Indian Murder is an engrossing thriller that does justice to the book.
Also read: Don't Look Up: Leonardo DiCaprio and Jennifer Lawrence headline this important film on climate change