Karan Malhotra is someone who established himself as a successful mass director with his debut film Agneepath. The film was a remake of the old one by the same name. It was an unabashed masala film with little nuance. But still Agneepath was very much watchable; there were two main reasons for that. One is a certain craft that Karan brought along with the powerful performances led by Hrithik Roshan. Agneepath also gave us two powerful villains in the form of Sanjay Dutt's Kancha Cheena, and late Rishi Kapoor's Raut Lala. His next Brothers was also a remake, this time a Hollywood film. Brothers was less successful but still the film had its moments.
His latest Shamshera pretty much treads on the same path. It is a mass masala entertainer that presents Ranbir in a very different light. Earlier also Ranbir has tried his hand at mass genre, case in point being Besharam and Bombay Velvet directed by Abhinav and Anurag Kshyap respectively. Shamshera is a far more successful mass stint than the above mentioned ones. The film isn't without its share of lapses but there is no denying that it is an absolute big screen experience.
Also read: Modern Love Hyderabad: This anthology leaves you with a warm and fuzzy feeling
Fictional tribe and city
The movie begins with Ronit Roy's narration about a fictional lower caste warrior tribe called Khammeeran. This tribe is led by Shamshera (Ranbir Kapoor in a double role as father and son). They are imprisoned in an imaginary city of Kaza. In Kaza they are enslaved and tortured by the ruthless authoritarian general Shuddh Singh (Sanjay Dutt once again in a negative role). After a lot of humiliation Shamshera decides to free his tribe but he only ends up dying. After a leap of 25 years we are introduced to the son Baali who looks exactly like his father.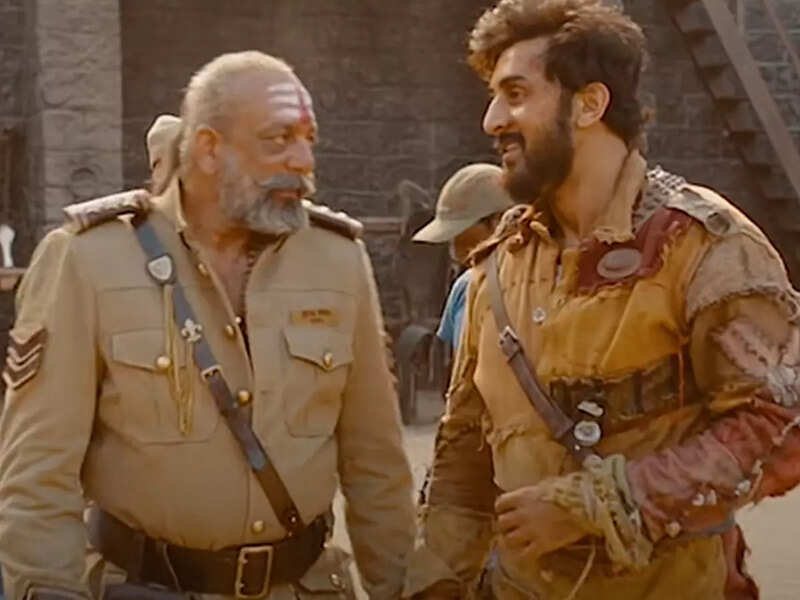 However, Baali's inner personality is very different from his father. He likes singing and dancing. This is established wonderfully in the intro song Ji Huzoor. The aim of Baali is to join the security forces working for the British. He is blissfully unaware about the truth behind his father's painful death.
Also read: Rocketry: Watch it Madhavan's dedication and the real life Nambi Narayan
Soon enough Baali comes to know about how much his tribe has suffered, he takes over the mantle of Shamshera and thus a new fight begins. It is a fight for the freedom of his people and their self respect. Added to this mix you also have Vaani Kapoor playing Baali's love interest. Her introduction is very similar to what Katrina Kaif had in Thugs of Hindustan. In a way her character can be called as a distant cousin of what Katrina Kaif had played. There is also Saurabh Shukla who is reminiscent of Satyaraj's Kattappa in the Bahubali films.
The most striking aspect of Shamshera is how it has been staged. The imaginary city of Kaza never feels fake. A major reason for that is the production design by Sumit Basu. It looks intrinsic and detailed. A shout out also has to be given to the cinematographer Anay Goswamy. He does a wonderful job in capturing the terrain of the Nubra Valley, the film has been mostly shot there. The constantly swirling dust has been brilliantly used by the cinematographer.
Also read: Jug Jug Jeeyo: This dramedy packs a punch
Music and background score by Mithoon is another high point of the film. The best examples of this are the two distinctively different intro songs for the father and son. The one song which sticks out like a sore thumb is the Vaani Kapoor's introduction song.
From the first frame it is very clear that Karan Malhotra has banked heavily on the duo of Ranbir Kapoor and Sanjay Dutt, fortunately for the director neither disappoint. Ranbir Kapoor is on point both as the father and son. The characters of Shamshera and Baali give enough scope for Ranbir to showcase his all round capability, and the actor doesn't disappoint one bit. He holds the film together with his charisma and acting chops even when the script starts wobbling. Ranbir is particularly good when he aces the vulnerable side of the father and the son. As an action hero he never appears out of place.
Also read: O2: A strong cautionary tale for humankind
A terrific villain
Sanjay Dutt makes for a terrific villain. Shuddh Singh is cut from the many villain roles that the actor has been playing of late. But unlike KGF 2 here Sanjay Dutt doesn't come across as sleepwalking. It is easily the best negative role that the actor has played post Agneepath. The action scenes between Ranbir and Sanjay are a delight to watch. More so given that Ranbir played Sanjay Dutt in the latter's biopic Sanju.
The biggest flaw of Shamshers is how it treats its secondary characters, starting from Vaani Kapoor's Sona. In the first half her only job is to do sensual dances. In the second half there are some dramatic moments where she could have shined, but Vaani fails miserably. The love story between Ranbir and Vaani comes across as an unnecessary extra. The actress playing Shamshera's wife is mostly reduced to a weeping figure.
Also read: Vikram: A masala treat for the fans of Kamal, Fahadh and Vijay
On the other hand, capable actors like Ronit Roy and Saurabh Shukla are mostly reduced to loyal elderly men, for the father and son respectively, the other members of Shamshera's tribe don't fare any better.
Shamshera also suffers from a distinct hangover of Bahubali films and RRR. There is a seen there feeling that the audiences get at many junctures.
The climax is too elongated and by the time Shuddh Singh dies you feel utterly exhausted. Karan Malhotra uses crows as a helping hand very frequently; this plot device doesn't bring anything substantial to film.
There is a lot to enjoy if you are a fan of Ranbir Kapoor. It is indeed a treat to watch the actor on the big screen after four years. However, an original approach would have made this more worthwhile. Shamshera would have fared better if it had come before Bahubali and RRR.
Also read: Major: Adavi Sesh anchors this heart touching saga